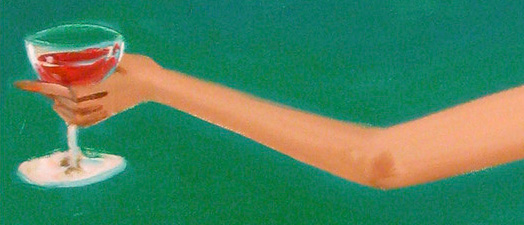 Big Boi, Sir Lucious Left Foot...The Son Of Chico Dusty

After languishing in record label limbo (and perhaps benefiting from the long gestation period), 2010 finally saw the release of the OutKast member's solo record. With rubbery beats and a funk backbone descended from Bootsy Collins and the Godfather (the title references the southern slang phrase "gettin' out on the good foot" and, no doubt, James himself), Big Boi kept bottoms bouncing.
How to Dress Well, Love Remains

An album that sounds like it was recorded underwater, the sounds just seem to surface before being washed back under the waves. Much has been made of Tom Krell's R&B interests, and this deconstruction of the genre, filtering it through indie rock's lo-fi lens (with echoes of William Baskinski's Disintegration Loops), produced one of the most haunting and haunted records of the year.
JJ, JJ nº 3

While it doesn't live up to their last album, JJ No.3 doesn't really falter either. I found myself playing one right after the other a lot when this came out, and the two albums went together like two halves of a whole. Or rather like the ultra-extended play of the last album. In many ways, this album makes the list because of that.
Kanye West, My Beautiful Dark Twisted Fantasy

While there's no ranking on this list, make no mistake. My Beautiful Dark Twisted Fantasy tops the charts (as evidenced by the artwork, above). A baroque exploration into West's psyche that proves more is more, this album is relentless in its pursuit of ideas, browbeating one into submission. It didn't quite hit me on the first listen (though my mother actually commented that she liked one of the songs), it grabbed my ears and still hasn't let go after I watched the 30 minute video for "Runaway." Somehow, I love even the songs I don't like. The only album I actually purchased on vinyl this year (even tho it's already on backorder after having dropped on Tuesday).
Nicki Minaj, Barbie World (The Mixtape)
Before showing up all over Kanye West's album (and releasing an album of her own) Minaj set the stage with this mixtape. Barbie World manages to bring back Aqua and Annie Lennox in the span of the first two tracks. Maybe it's the nostalgia that those tracks garner or maybe that it manages to burnish the reputation of tracks I had all but forgotten when resequenced in this mixtape, but it poised Minaj to take over.
Robyn, Body Talk Pt. 1

In a year that saw no less than three EPs by pop queen Robyn (plus an LP that cherry-picks tracks from the three), my favorite continued to be the first EP. Driven by the propulsive "Dancing on My Own" (in a version I prefer over that released on the album) followed the rocking "Cry When You Get Older" I found myself returning again and again to this introduction to the pop project that Robyn would be working on through the year.
The Tallest Man on Earth, The Wild Hunt

Kristian Matsson's second album manages to improve on his first as he steps more firmly out from under Bob Dylan's shadow and into his own. The slightly ragged production highlights his voice and the sparse arrangements, leaving space for the sentiment contained therein to burrow into your emotional subconscious.
Wild Nothing, Gemini

The promise and release of summer run through this album, which manages to hit so many dream-pop touchstones and references that it would take paragraphs to outline them all. High school memories abound. I just want to get in my car and drive on empty roads thorugh wide open spaces, top down, radio up.