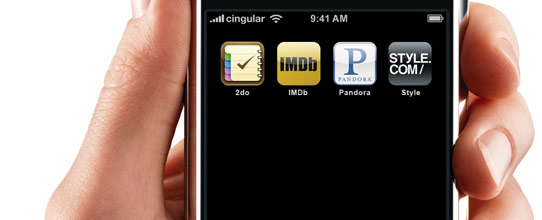 Sadly, a much smaller list of apps than the games list. I guess I'm not as productive on my iPhone as I could be . . .
2do
A beautifully designed app to keep track of lists of things to do. A free version allows for three lists, but I quickly realized I needed more. In addition to lists of things to do, I have lists of cheeses to try, wines I like, galleries to visit, things to blog. . . . I never thought I liked keeping lists as much as it turns out I do.
IMDb
All the information from the Internet Movie Database in a handy app that loads quickly and efficiently. Oddly, I had trouble locating running times the other night. The addition of a web browser (so you wouldn't have to leave the app for Safari when reading reviews) would make this all the better.
Pandora Radio
Although I've had the app for a while, it wasn't until Christmas rolled around that I started using it. It's great for creating those specialized radio stations of music you love to listen to, but don't necessarily want to collect.
Style.com
All the lastest runway images from New York, London, Milan, and Paris in the palm of your hand. An indispensible way to keep up on the latest shows and trends, all with the flick of a finger.