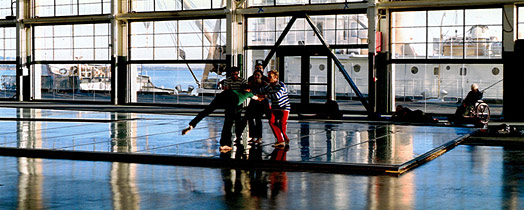 Two weeks ago a friend invited me to see La Danse, a documentary about the Paris Opera Ballet by Frederick Wiseman. Unfortunately, I had plans that evening, and the film closed before I had the chance to see it. She later told me that the film was wonderful, but seemed to lack editing. She said it was as if the director wanted to include everything.
Her invitation and comments me of Tacita Dean's Craneway Event, a 16mm film about a site-specific dance created by Merce Cunningham. Another friend had invited me to see the work at the Danspace project in New York. Dean follows the dancers as they prepare, make, and rehearse the piece under the watchful eye of Cunningham, who is never far from the frame. It's at once a documentary on the process of creating the dance, a record of the dance itself, and a reimaging of the dance as her own work through her choices of what to reveal and where she places her focus.
To Dean's credit, watching her film reminded me of my first encounter with Cunningham's choreography. I was in college and secured a ticket to see the Merce Cunningham Dance Company. I was fairly unfamiliar with modern dance, and unprepared for what I encountered. The work was slow, and I had to force myself to concentrate on the work before me. It wasn't until much later that I realized its beauty. Dean's film didn't take so long to resonate with me, as I admired the way in which she constructed her shots and sequences, and the way in which she framed the action and nonaction. It had been a long time since I had encountered Cunningham's work, and I was glad for this document of it. Sadly, the film marks Cunningham's last appearance on film.