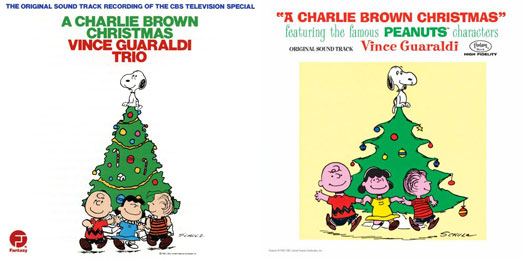 The day before Christmas Eve, Karen told me that one item she most wanted was the Charlie Brown Christmas record
. She had seen it at Urban Outfitters and was determined to get it. I reserved a copy of the record and planned to give it to her the next day, Christmas eve.
That morning I asked her what her plans were after work. She said she was going to Urban Outfitters. I made haste to get to the store and bring it to her office. She thanked me for intercepting her.
At the same time I bought a copy for myself. I waited until this morning to open it, and have been listening to it all day. The record leaves the turntable only as long as it takes for me to flip it. It's brilliant. Interestingly, the copy I have is a mix of the two covers above. The type is that of the left cover, and the illustration is that of the right.
I'd also like to take this opportunity to wish readers of this young blog a Merry Christmas. Thanks for bearing with me while I figure out its format and voice. Ho! Ho! Ho!