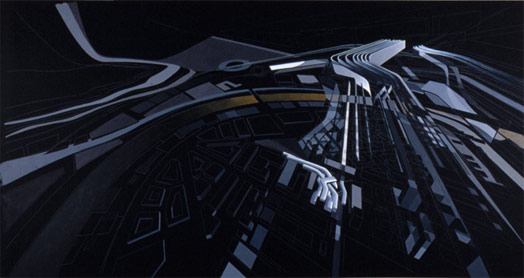 As part of a recent profile in the New Yorker, the magazine has posted a slide show of Hadid's new building, the National Museum of the XXI Century Arts, just outside of Rome. It's her largest building completed to building to date, and opened last month before any art was installed.
I first learned of Hadid when the Guggenheim staged a retrospective of her work in 2006. I was initially captivated by her paintings, in which she tries to represent the sum of each building in an abstract manner. As I continued up the ramp I became more and more entranced by her work after viewing models and watching video walkthroughs and interviews. For the BMW plant in Leipzig, Germany, I was particularly struck by the way in which she brought the blue colllar production line through the white collar office space. In an interview, one office worker spoke of how wonderful it was to be so connected to what the company was building. Her job was no longer abstract.
Then, she seemed to have few completed projects, and was just beginning to get more. I'm excited to see that she has so many projects underway, and I'm glad to see her so recognized. I can't wait to actually inhabit one of her buildings myself.
More can be learned at her studio's site.