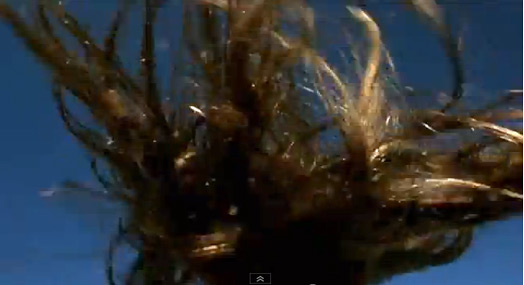 I've been casting about for things to listen to lately. Searching through my iTunes I found a playlist I created for a birthday party I threw last year. Listening to it again, I realized two of the songs appeared because of Diving Bell and the Butterfly.
One was a song I first heard in college, U2's "Ultraviolet" (sorry, Karen). It was never my favorite song from Achtung Baby, but in the film the song is a revelation. The director smash cuts to the back of a woman's head framed against clear blue skies, her hair wild in the wind. On the soundtrack, the song begins with first drumbeats of the song (eschewing the slow 45 second intro on the album). After finishing the film I went back and watched this scene over and over again; the sense of freedom it conveys is astonishing. There's much to recommend the film beyond this sequence, but it's the one sequence that has stuck with me most. There's a clip of this scene on YouTube that I was tempted to link to, but it's really much better in context (instead the link above is a live version with Bono singing into a glowing steering wheel).
The second is "Don't Kiss Me Goodbye," by Ultra Orange & Emanuelle, a band I had never heard of before (and tied to the first song by the appearance of "Ultra" in the bandname). There's not as much to say about this. The ringing guitars and the ennui conveyed in the lead singer's accented voice as she sings the title is irresistable to me.
For those curious about the full list of songs, I've included it in the extended portion of this post. I had wanted to write liner notes for the mix, but never quite got around to it. Maybe I'll make it the subject of a future post, if I find the time.
If I Were A Bell - The Miles Davis Quintet
But Not For Me - Chet Baker
Mali Cuba - AfroCubism
Aankhon Mein Teri - Sukhwinder Singh, Marianne, Nisha, Caralisa
Birthday - The Sugarcubes
California (All The Way) - Luna
Fake Empire - The National
Mario's Cafe - Saint Etienne
The Saltwater Room - Owl City
Fidelity - Regina Spektor
Wonderful World - Sam Cooke
Sweepstakes Prize - Mirah
The First Cut Is The Deepest - Norma Fraser
Will You Love Me Tomorrow - The Shirelles
Mr. Big Stuff - Jean Knight
Going Down - The Stone Roses
Back on the Chain Gang - The Pretenders
Derniere Minute - Carla Bruni
Everyday - Buddy Holly & The Crickets
Dry your eyes - The Streets
Mayfly - Belle & Sebastian
All My Little Words - The Magnetic Fields
That's The Way (I'm Only Trying To Help You)- Culture Club
Way Down In The Hole - Tom Waits & Kronos Quartet
Everything's Gonna Be All Right - Naughty By Nature
Tak Ingin - Wong
夢中人 - 王菲
Save Me A Saturday Night - Neil Diamond
Two Hearts - Chris Isaak
I Could Never Take The Place Of Your Man - Prince O(+>
L'Anamour - Serge Gainsbourg
You Got The Love (Florence - The XX rmx) - The Very Best
Love Out Of Lust - Lykke Li
Suspicious Minds - Elvis Presley
Don't Worry Baby - The Beach Boys
These days - Nico
Black Cab - Jens Lekman
Lost In Emotion - Lisa Lisa and the Cult Jam
Solid Ground - Ms. John Soda
Qui sème le vent récolte le tempo - MC Solaar
Surefooted - Geoff Ereth
Tenderness - General Public
Close To Scrubs (The Cure vs. TLC) - Cheekyboy
Fistful of Love - Antony and the Johnsons
I Want You Back (Z-Trip Remix) - Jackson 5
From Africa To Malaga - JJ
Don't Look Back - Fine Young Cannibals
History Town (Mos Def vs Desmon Dekker) - Max Tannone
Love Vigilantes - New Order
What's My Name? Feat. Drake - Rihanna
Good Life - OneRepublic
Girlfriend in a Coma - The Smiths
But Not Tonight - Depeche Mode
Molly (Sixteen Candles) - Sponge
I Love You - Nicki Minaj
Whatta Man - Salt N Pepa
No Substitute Love - Estelle
Open Your Heart - Madonna
Distance - 宇多田ヒカル [Utada Hikaru]
Cameras (Produced By E. Dan) - Wiz Khalifa
Replay - Iyaz
Back Seat of My Jeep - L.L. Cool J.
Paper Planes (featuring Big Bun & Rich Boy) - M.I.A.
This Must Be the Place (Naive Melody) - Talking Heads
Semi-Charmed Life - Third Eye Blind
Bring On The Dancing Horses - Echo & The Bunnymen
챠우챠우-아무리 애를 쓰고 막아보려 해도 너의 목소리가 들려 - Deli Spice
Ultra Violet (Light My Way) - U2
In Between Days - The Cure
All I Want - LCD Soundsystem
A Little Respect - Erasure
Living In Oblivion - Anything Box
Heartbeats - The Knife
Worlds Of Success (Jay-Z vs Brian Eno) - dj BC
Tokyo Nights - Puffy AmiYumi
Closing Time - Semisonic
Bye Bye Bye - N*Sync
Sunday Morning - The Velvet Underground
Nightswimming - R.E.M.
Easy Heaven (The Cure vs. The Commodores) - Brat
Don't Kiss Me Goodbye - Ultra Orange & Emmanuelle